6-19 July 2008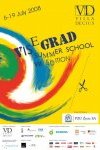 Seventh edition of the Visegrad Summer School will take place in the Villa Decius, in Krakow. This summer 45 students, graduates, PhD researchers, young journalists and teachers from Czech Republic, Hungary, Slovakia, Belarus, Romania, Russia, Ukraine and Poland will not only have a chance to exchange knowledge about their home countries but also to learn to respect each other, make international friendships and meet most outstanding European experts.
This year's programme focuses on the impact of the Schengen zone expansion on international relations in Central and Eastern Europe, development of the civil society in the region and the role of the Visegrad Group countries and its neighbours in strengthening transatlantic and euroatlantic relations.
The Visegrad Summer School, which we have been organizing with help and advice of our Partners: the Centre for the Research of Ethnicity and Culture from Bratislava, the Association for International Affairs from Prague, the Hungarian Centre Budapest - Krakow and EuroRegio Institute from Kiev has become internationally recognized educational initiative and very popular among young people of Central and Eastern Europe. For the students of the Visegrad Summer School, diplomats, journalists and experts, it would be a unique opportunity to meet you and discuss the challenges facing our societies.